Wist je dat je bij Hairvolution kapper Lochem en Almere ook terecht kunt voor het waxen en verven van je wenkbrauwen? Twee behandelingen die vaak gecombineerd worden voor het meest optimale resultaat. De verf legt een laagje om de wenkbrauwen, waardoor ze voller lijken en je wenkbrauwen nog beter naar voren komen. Ideaal als je 's ochtends niet te lang voor de spiegel wilt staan. Je hebt je wenkbrauwpotlood namelijk niet meer nodig! 
Benieuwd? In de maand februari kun je jouw uitgroei- of totale kleurbehandeling uitbreiden met een wenkbrauwbehandeling met 50% korting. Je wenkbrauwen worden dan zowel gewaxt als geverfd. Je vindt de behandelingen in ons boekingssysteem onder het menu 'maandactie'.
Je kunt kiezen uit de volgende twee behandelingen: 
Uitgroei behandeling + wenkbrauwen waxen & verven € 50,20
Totale kleurbehandeling + wenkbrauwen waxen & verven € 57,75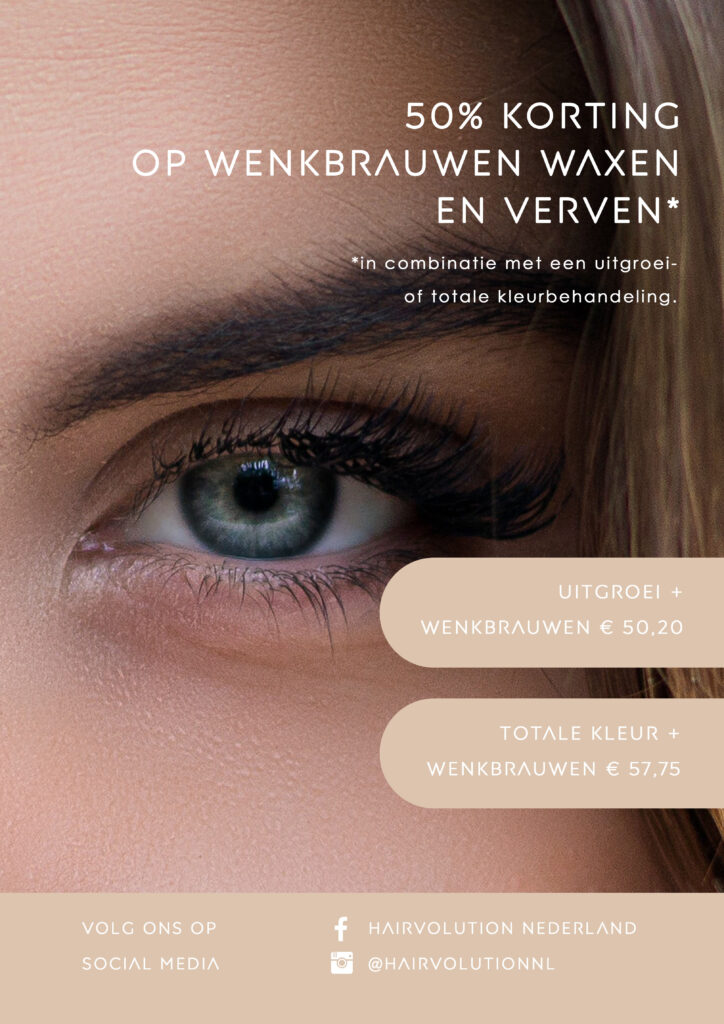 Reguliere prijzen:
Wenkbrauwen waxen € 15,50
Wenkbrauwen waxen + verven € 28,50
Wimpers verven € 15,50
Bovenlip + kin waxen € 13,50
* In combinatie met een uitgroei- of totale kleurbehandeling. Geldig in februari 2023 bij onze Hairvolution salons in Lochem en Almere.